The 12th Annual Jay Dix Challenge to Cure will be held on May 10, 2014 at Flat Branch Park at 9am.  Three different events are offered for all levels: a 5k walk, a 5k run, and a 10k run. All benefits from the race benefits Ellis Fischel. The Challenge to Cure has raised nearly $165,000 for cancer research since it began in 2003.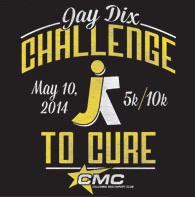 The Columbia Multisport Club established the Challenge to Cure in memory of Jay Dix, MD, an MU pathologist who fought his own battle with cancer. Dr. Dix also served as the Medical Examiner for Boone and Callaway counties from 1980-1989. After working as the Deputy Chief Medical Examiner of New York City for a year, Dr. Dix returned to Columbia and resumed his duties as Medical Examiner for Boone and Callaway counties. Jay always found time to exercise four or five times a week. Even before his bout with cancer, his commitment to wellness inspired many. The Jay Dix Challenge to Cure celebrates Jay's passion for fitness and competition while giving back to the community that he so loved.
In 2014, the Challenge to Cure has partnered with the COMO Kids Challenge, which is part of the Mayor's Council on Physical Fitness.  On race day, nearly 100 children will complete their last mile of 26 miles to complete their year-long commitment to themselves and to the community to become involved in volunteering, reading and fitness. It will be exciting to see the next generation receive their finisher's medal with hundreds of people cheering them on.
As always, the Challenge to Cure features:
a beautiful, well-supported course
an awesome race t-shirt
custom designed awards medals for top 3 in each age group
the first 500 registrants receive a custom tote bag courtesy of Bob McCosh Chevrolet
best swag bag you'll ever see for a 5k or 10k
AND a pancake breakfast for volunteers & racers
So, get your walking or running shoes on and join us for a morning of exercise and camaraderie all in support of Ellis Fischel! 
The registration fee increases April 11th, so enter today & SAVE!
 New this year is the Team Registration option. Teams of 10 or more receive $5 off each person's entry fee. This is an excellent opportunity for co-workers, family, friends, neighborhoods…you name it…to get together for a great cause!
EVERY SINGLE PENNY OF PROFIT GOES DIRECTLY TO ELLIS FISCHEL. 
Be sure to check the website for complete details www.challengetocure.com.  Stay tuned for more Jay Dix updates on our Facebook page because this is an exciting time to be a part of the Jay Dix Challenge to Cure!
Please contact me if you have any questions.  See you all on May 10!
Karen Rouse, Race Director
Jay Dix Challenge to Cure